Reedy Creek Fire Rescue Storm Center Updates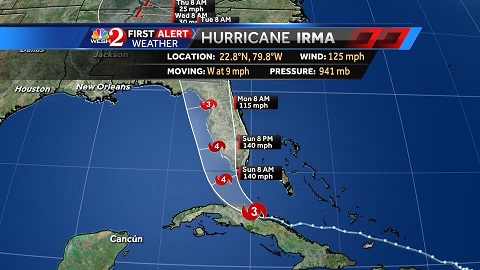 From the administration:
Hurricane Irma continues to be a very powerful Category 5 Hurricane. She is currently located 670 miles ESE of Miami, FL moving WNW at 16mph. We are expecting Irma to remain a strong Category 4 or 5 Hurricane as it hits the Florida Peninsula. Maximum sustained winds remain near 175mph with Hurricane winds now extending 70 miles from the center and tropical storm force wind 185 miles from the center. The storm track has shifted back west bringing the Hurricane straight up the Florida Peninsula. Track may continue to make small shifts but we are coming into better model agreement on track.
We need to take the threat of Hurricane Irma seriously and continue preparedness efforts for a Category 3.
After multiple conference calls, meetings and planning; the Emergency Management Team and department leadership is prepared to direct personnel with the following information:
v Conference call/face-to-face update completed with B-Shift Commander and Station Lieutenants this evening at approximately 1800 hours.
v "B" Shift personnel will be reporting to duty @ 1700 hours, Saturday, September 9th.
v "A" Shift personnel will be released as "B" Shift personnel report to their stations and relieve personnel on assigned units. Command Team will coordinate normal assignments.
v Additional Personnel hired for Overtime (Additional Apparatus coverages) will also report to duty, Saturday @ 1700 hours.
v The transition of on-coming Shift personnel and movement of personal vehicles to the Orange Garage will need to be coordinated (map included for locations to park) prior to the off-going Shift being released. Maintaining our response readiness is paramount during the transition.
v EMS Team (MARC) personnel should plan on reporting to their normally assigned shift for Saturday. Park closures are still to be determined at the earliest opportunity by WDW EOC and Senior Management. Please be prepared to leave the Parks when directed and anticipate contact by your supervision for post-storm opening/potentially resuming normal schedules as early as Monday/Tuesday (TBD).
v "C" Shift Personnel need to anticipate reporting to duty on Monday, September 11th as conditions improve and as directed by supervision/EOC. Notifications may be made by several methods of communication (cell, Telestaff, text) to provide a coordinated process to "relieve" holdover crews.
Our EOC will be activated Saturday afternoon or as conditions dictate, further direction will be provided to operations as staffing gets into position. Department personnel should be nearing completion with their own Hurricane preparation and planning details. Reminder: All personnel should be prepared with food/supplies minimally for 2-3 days. Please plan accordingly with your stations and leadership.
Please refrain from contacting the EOC directly and use your chain-of-command for further direction. The Communications Center will continue in normal operation with radio traffic/call alerting, adjusting to the call volumes and EOC requests before/during/after the storm event. We will communicate regularly with the operations team throughout our activation. Please feel free to repost this message on appropriate social media and messaging platforms for maximum reach/notification to our department personnel.
Finally, please be ready to answer your phones and stay tuned to the conditions around you. Most of all, please take care of your families and be prepared!
Stay Safe!
The Reedy Creek Fire Department has decided to participate in the Florida Task Force system for post hurricane operations by supplying one engine company with a LT, Driver, Firefighter Paramedic, and Firefighter EMT.
The assignment, which is yet to be determined, will begin the day after the storm passes and last up to 7 days. If interestered in working this event, please send an email to Sean Pierce at spierce@rcid.org. The positions will be hired in accordance with our OT rules.
This will be a brief update as Hurricane IRMA is continuing to evolve with its course and timeline. Please continue to prepare your families and home for the impending storm. Personnel should continue to work through your plan and anticipate resources necessary for the duration of the storm.
Coordination is ongoing with Emergency Management, along with leadership across the district, department, and all necessary resources available. Emergency Management is providing a briefing both morning and afternoon to department leadership. As I'm informed and armed with better information, these updates will be provided to all personnel at the earliest opportunity.
Based on the current projections (Subject to Change), personnel on A and/or B Shift should be prepared/anticipate staying at minimum 2 days. Also, further direction will be given to the EMS team as we anticipate potential closures of the Parks. Other key personnel/staffing are being identified for additional apparatus. Understand this situation is fluid and adjustments to the plan/staffing may be necessary.
Reminder….Please continue to communicate through your chain-of-command and monitor these/other updates for further information.
Hurricane Irma is a very strong and power Category 5 Hurricane that continues to gain strength and size. Currently maximum sustained winds near 185mph with hurricane force winds extending outward up to 60 miles from the center and tropical storm force winds extending outward up to 175miles from center. There is still uncertainty in forecasted track as it nears the Florida Peninsula. We will have a better idea of track, timing and impacts Thursday or Friday. The District is currently watching the track of Irma and taking initial preparedness measures..
Although impacts to Central Florida are not certain at this time please take this serious and prepare your homes and family. I know a lot of areas are sold out of water and non-perishables. We should see additional resources arriving into the state to support supplies needs to include fuel. Please stay tuned to the local news and weather apps for up to date information on the storm.
Personal Preparedness:
· Family Plan attached will assist you in ensuring you have enough resource to ride out a storm and help you plan http://flgetaplan.com/
· Clean up yard debris and furniture to ensure to decrease potential for projectiles
· Ensure you have enough water, non-perishable food and medicine for a few days
· Ensure you have food and water for pets
The governor has declared a state of emergency for the State of Florida due to the impending storm Hurricane Irma. We have begun our initial meetings with key personnel to review our hurricane plan. At this time, we are at "Phase 5" and I have assigned specific personnel tasks associated with this phase. As of today, the storm track and timing are uncertain, and due to that uncertainty, we are currently unable to determine what shifts will be impacted by the storm. However, as of the writing of this email, please do the following:
Prepare your families and home for the impending storm. Stock up on the necessary supplies. Have a plan in place.
·Operations shift personnel and 911 Communicators be prepared to be held over at work for potentially 3 days. If your shift is the impacted shift, be prepared with meals, clothing, etc. for a potential 4 day work period.
· Other personnel will be notified by their supervisor about their possible storm work schedule.
Hopefully by tomorrow, as a more predictable storm path and timing become known, we should have more accurate information. I cannot emphasize enough to please be prepared. Preparations around the stations and around the District have already begun.
Page Last Updated: Sep 09, 2017 (14:42:08)