Reedy Creek Improvement District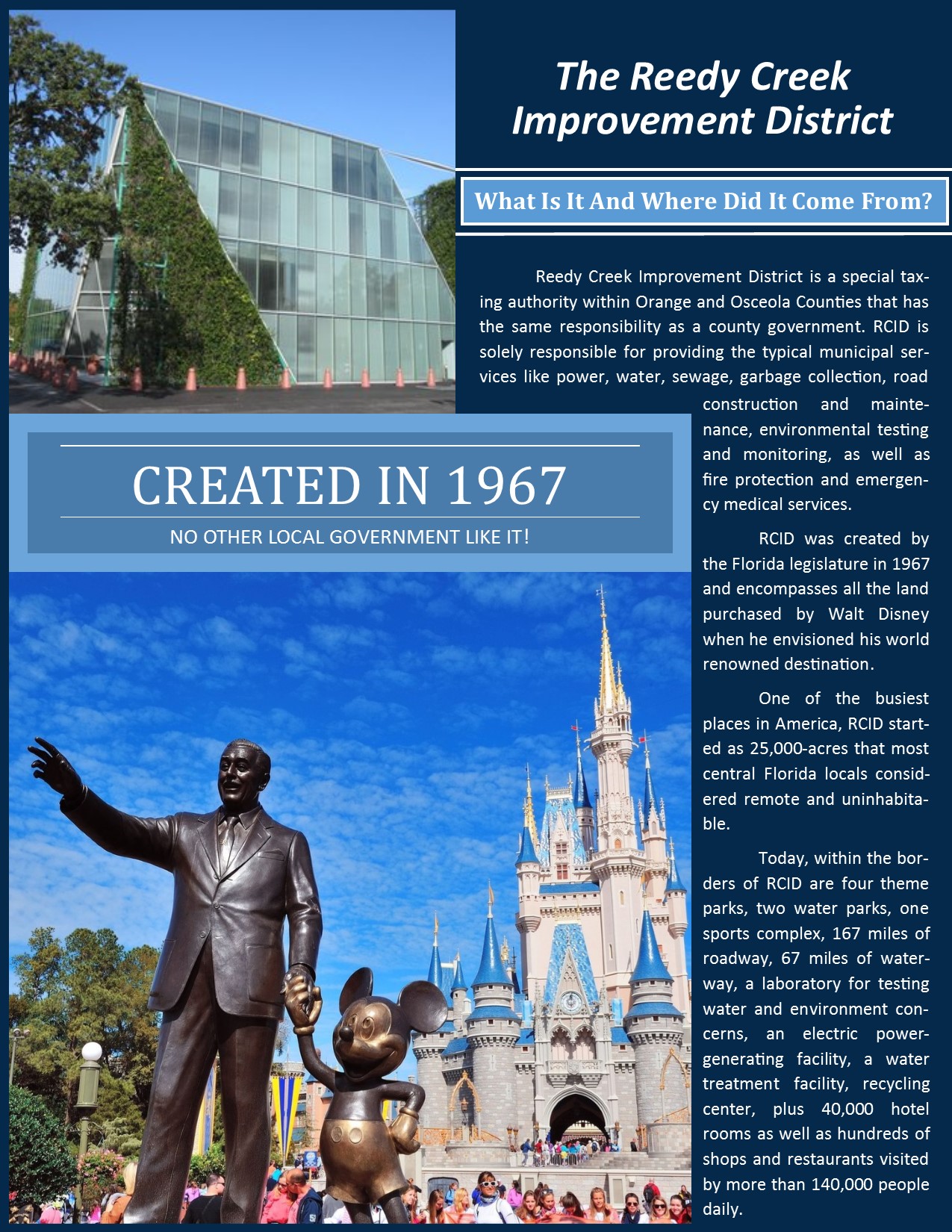 Reedy Creek Improvement District (the "District") is a progressive form of government, created in 1967 by a special Act of the Florida Legislature, the purpose of which is to support and administer certain aspects of the economic development and tourism within District boundaries. With an administration office located on Hotel Plaza Boulevard in Lake Buena Vista, the District encompasses approximately 25,000 acres in both Orange and Osceola counties, servicing 19 landowners, including Walt Disney Co. and its wholly-owned affiliates.
The District is responsible to oversee land use and environmental protections within the District, and provide essential public services (e.g. fire protection, emergency medical services, potable water production, treatment, storage, pumping & distribution, reclaimed water distribution, chilled and hot water systems, wastewater services, drainage and flood control, electric power generation & distribution, and solid waste and recyclables collection & disposal); regulate the EPCOT Building Code; and operate and maintain all public roadways & bridges. The District operates on a fiscal year, beginning on October 1st and ending on September 30th; and funds its operations, services, and capital improvements by assessing taxes and fees to the District's landowners and lessees, and by issuing ad valorem and utility revenue bonds.
SERVICING THE WALT DISNEY WORLD RESORT & OTHER AREAS
One of the busiest places in America, the District's boundaries include: 4 theme parks, 2 water parks, 1 sports complex, 175 lane miles of roadway, 67 miles of waterway, the cities of Bay Lake and Lake Buena Vista, an environmental science laboratory where the continuity of water quality is monitored, an electric power-generating & distribution facility, a natural gas distribution system, water and wastewater collection & treatment facilities, a solid waste and recyclables collection & transfer system, plus over 40,000 hotel rooms and 100's of restaurants and retail store
Page Last Updated: Sep 05, 2017 (08:44:37)